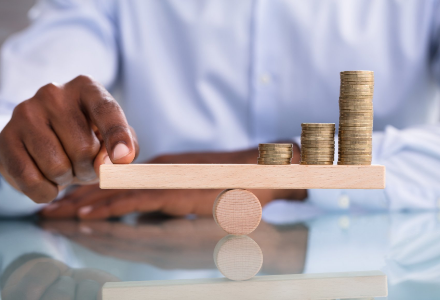 How much does Salesforce cost?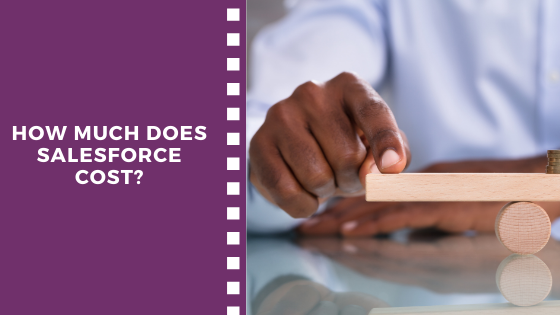 Charities and non-profits are awarded 10 user licenses every year at the Enterprise Edition completely free of charge and benefit from a discount on any licenses they need over and above the 10 users. For other businesses, the core product Salesforce Sales Cloud starts at £20 ($25) / user / month billed annually up to a maximum of 10 users. For 10 or more users you'll need the Professional Edition which is £60 ($75) / user / month with a few more features. For a higher field allowance, more than five automations and for many apps you'll need the Enterprise Edition which is £120 ($150) / user / month billed annually. These costs are in GBP and dollars accurate as at September 2021. For the latest pricing in other currencies please see salesforce.com.
The image below shows the Salesforce summary of the Sales Cloud prices and we've also broken them down below the image with the dollar price. Charities who need more than 10 user licenses benefit from a discount which means they pay $36 / user / month for additional Enterprise level licenses (see full breakdown for nonprofits at the end of this blog).

In a nutshell, what do the Salesforce Sales Cloud Editions include?
Salesforce Essentials Edition costs £20 ($25) / user / month up to a maximum of 10 users. It includes Account, Contact, Lead, Opportunity Management, Email Integration with Gmail or Outlook and the Salesforce Mobile App. You can have a maximum of 5 active automations (also known as 'Flows')
Salesforce Professional Edition costs £60 ($75) / user / month and includes everything in Essentials for any sized team. You can also capture web leads and set up automatic lead scoring to follow up on the right leads at the right time. You can have a maximum of 5 active automations ('Flows').
Salesforce Enterprise Edition costs £120 ($150) / user / month and includes everything in Professional plus Collaborative Forecasting and Automation. There are other benefits of the Enterprise Edition such as the number of fields you're allowed and the number of automations you can set up – it's also the edition you're likely to need if you want to use many of the apps from the Appexchange, particularly those for integrations. With Enterprise Edition the limit for active automations ('Flows') is 2000. If you're using Salesforce Enterprise and above, there are some cheaper licenses if you want to extend your use of Salesforce throughout the organisation – have a look at Paul Ginsberg's article on Salesforce Ben about Salesforce Platform Licenses
Salesforce Unlimited Edition costs £240 ($300) / user / month and includes everything in Enterprise Edition plus 24/7 Support and Configuration Services
Nonprofits are awarded 10 free Salesforce Enterprise edition user licenses so if your charity has 10 users or less you won't pay Salesforce unless you go over a high storage limit.
What are the two main types of Salesforce Cloud?
Sales Cloud is the type of Salesforce that many businesses use – it include Contacts, Accounts, Opportunities, Reports & Dashboards. Along with apps from the App Exchange, for many businesses Salesforce Sales Cloud is all they will use.
Nonprofit Cloud includes the Salesforce suite of products for charities and non-profits. The main product is the Salesforce Nonprofit Success Pack (NPSP) which is similar in many ways to Sales Cloud in that it includes Contacts, Accounts, Opportunities, Reports & Dashboards – although these are all tailored to charities and there are a number of other great features such as Relationships and a Household model
What are the other Salesforce Clouds?
Service Cloud allows a customer to send an email or web form which will be converted to a case in Salesforce, you can set up an automated response for incoming cases, assign a case to the right team, create a knowledge base and Service Cloud includes telephony integration. Service cloud pricing starts at £20 ($25) / user / month for a maximum of 10 users for the Essentials Edition. If you need to track service contracts and entitlements you'll need the Enterprise Edition of Service Cloud (£120 ($150) / user / month). This Salesforce Ben blog has a great comparison of the features of Sales Cloud vs. Service Cloud. Included in a Sales Cloud license is some of the basic Case functionality so if you're already using Sales Cloud you might want to see if that can be pushed to meet your needs without a Service Cloud license.
Sales Cloud and Service Cloud pricing: Professional Edition £80 ($100) / user / month (billed annually), Enterprise Edition £140 ($175) / user / month (billed annually). There is an Essentials price listed of £25 ($25) / user / month billed annually on this pricing page but it refers to some Service Cloud features being available in the Sales Cloud product rather than the full Sales & Service Cloud product.
Marketing Cloud includes various different products such as basic email marketing which starts at £320 ($400) per org per month (although there are Salesforce Appexchange products that allow email integration for a more cost effective outlay), Social Studio (social media marketing) which starts at £800 ($1000) per org per month and Pardot marketing automation which starts at £1000 ($1,250) per org per month.
Commerce Cloud includes AI-powered digital experiences for mobile, social, web, and store. The price is based on gross merchandise value for the consumer product and order volume for the B2B version.
Experience Cloud (previously Community Cloud) includes an online portal for customers. Pricing starts at £1.60 ($2) per login or £4 ($5) per member per month (billed annually).
What is Salesforce Lightning?
Salesforce Lightning is the current version of Salesforce which launched in 2015. Any new Salesforce subscriptions will automatically use Lightning and many older organisations have migrated to using Lightning
Salesforce Classic is used by organisations that haven't yet made the switch to Lightning
What other Salesforce products is it good to be aware of?
What else do I need to budget for?
Apps: it's essential to budget for any apps you need such as FormAssembly for online forms that integrate with Salesforce. Read our blog on the essential apps to consider for Salesforce.
Consultancy: most organisations find it beneficial to employ a consultant, especially with the initial implementation. Contact us if you'd like to chat through how we can help you with your Salesforce implementation and optimisation.
I'm using Salesforce, what edition is it?
You're not the first person to wonder what version of Salesforce they're using. After logging into Salesforce, click the cog top right and select Set Up, then search for Company Information in the left search bar. You'll see a lot of useful information about the Salesforce Edition you're using. You can also click the cog and choose Manage Subscription. If you don't see these options, chat to your Salesforce administrator.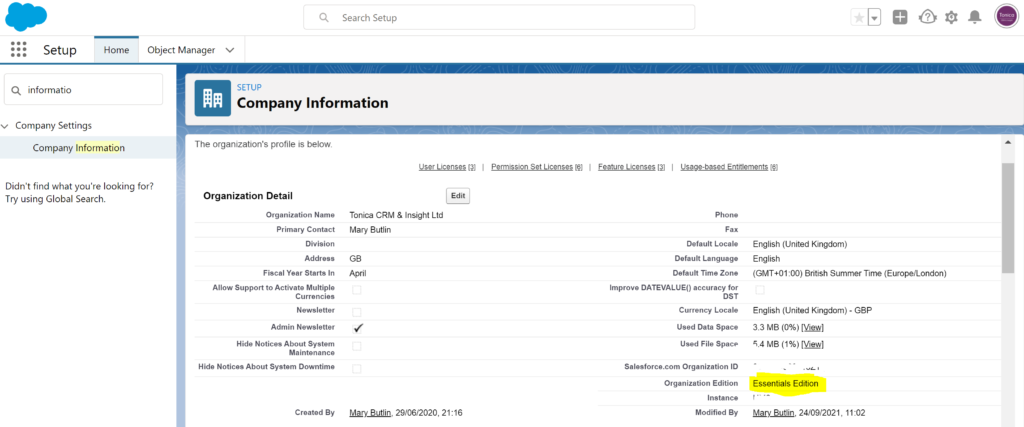 How much do non-profits pay for additional licenses (over and above the 10 Enterprise level Sales Cloud licenses donated by Salesforce)?
If your charity or nonprofit has more than 10 staff members who need access to Salesforce, heavily discounted licenses are available. Most charities use the Sales Cloud Enterprise Edition and Nonprofit Success Pack (NPSP) so would pay $36 / user / month (billed annually) if they need more than 10 licenses. The chart below gives the full overview of nonprofit pricing: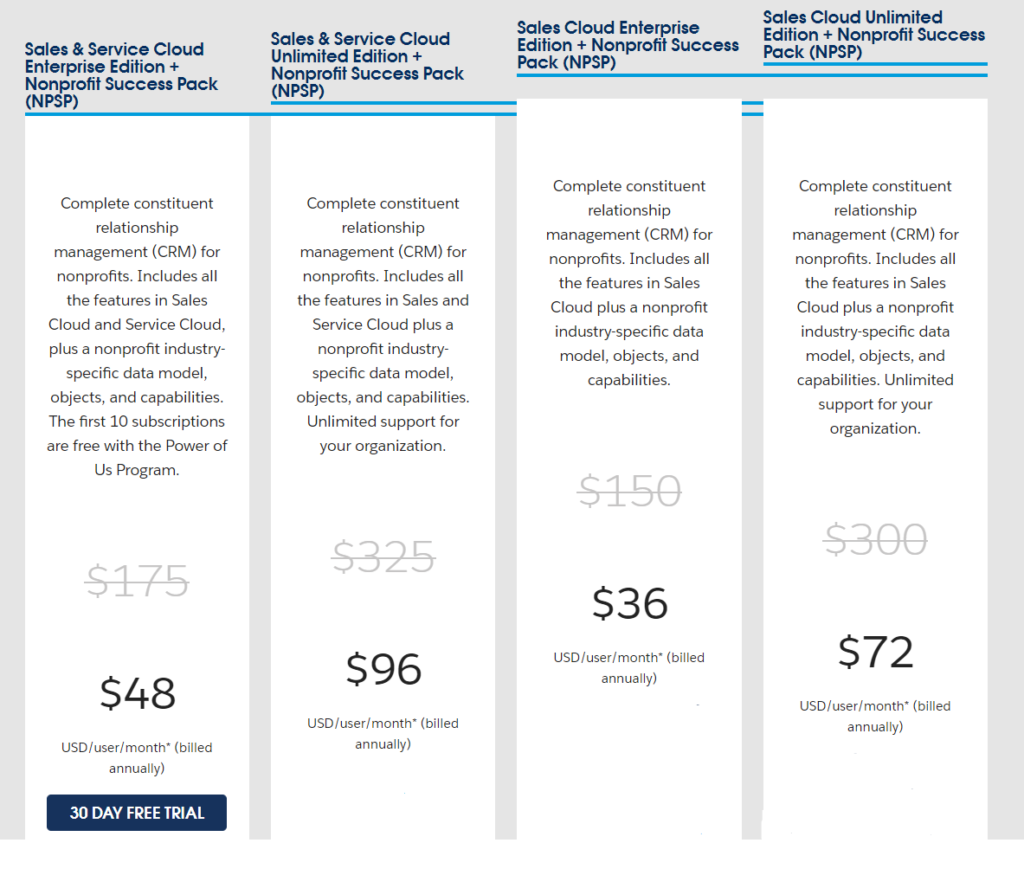 Tags: